New Delhi: Kamaal R Khan is known for speaking anything that comes to his mind, the former actor and film critic doesn't have any filter and is often lashed by netizens for his controversial and unsolicited views on many topics. Recently, he commented on Virat Kohli's mental health and blamed Anushka Sharma for the cricketer's 'depression'.  
KRK wrote in a tweet, that is now deleted, that she must have "put in his head" that he is depressed because he is the first Indian cricketer to have made such a confession about his mental health. KRK had tweeted, "Virat Kohli is the first cricketer in India who is having problem of depression. Ye hai result ek heroine se shaadi karne ka. She must have put in his head that he is having depression problem."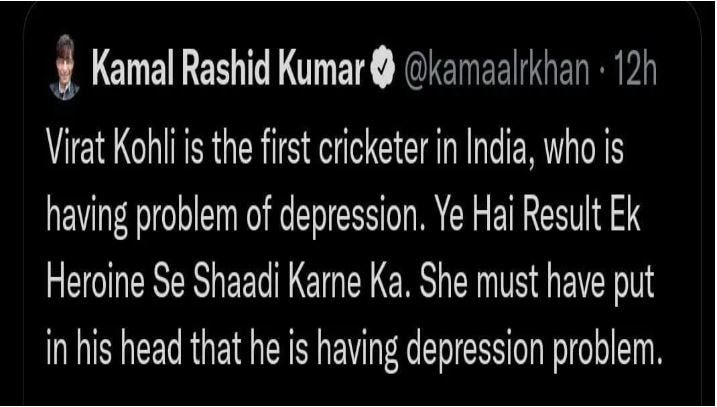 He deleted the tweet after he was slammed by netizens, and rightly so, for his misogynistic remark. KRK also wrote in an undeleted tweet, "Ek North Indian strong boy #ViratKohli Ko Depression Ki Beemari Kaise Ho Gayee? (How could a strong North Indian boy suffer from depression)?"  
One of the users wrote, "The extent of general misogyny and women-shaming in this part of the world is unprecedented. Also, unbelievable at times." Another user asked everyone to report him, "Please report this guy. It's not ok to belittle someone's battle with depression," the tweet read. 
Virat recently talked about his mental health in an interview with Star Sports while opening about his bad form. He said, "I'm not shy to admit that I was feeling mentally down. This is a very normal thing to feel, but we don't speak because we are hesitant. We don't want to be looked at as mentally weak. Trust me, faking to be strong is far worse than admitting to being weak." 
"For the first time in 10 years, I didn't touch my bat for a month. I came to realisation that I was trying to fake my intensity a bit recently. I was convincing myself that no, you had the intensity. But your body was telling you to stop. The mind was telling me to take a break and step back," he also added.