By Owain Clarke
BBC Wales health correspondent
It will take "a number of years" for NHS waiting times in Wales to recover to pre-coronavirus levels, the organisation's boss has warned.
The number of people waiting more than 36 weeks for planned hospital treatments is six times higher than at the start of 2020.
Waiting list figures, published for the first time since March, show nearly 169,000 people waiting.
The total waiting list has now swelled by more than 55,500.
Since then, the service has been trying to restart non-emergency treatments and aims to keep them going as much as possible during the second wave.
Despite recent progress, NHS Wales chief executive Andrew Goodall warned waiting times could grow even further, saying there was a "real concern" that hospital doctors were only able to see about half as many in-patients and day cases as normal.
He believes there will be a third fewer out-patients seen and operating theatres working at half their usual capacity due to infection control measures.
Data showed that between March and August there had been a five-fold increase in the longest waiting times of more than 36 weeks.
"The overall waiting list has not changed so much, it's simply patients have been shifted more to the end of the list as we've had to prioritise urgent and emergency cases," Dr Goodall added.
"We have made a lot of improvement on waiting times in recent years and it will take us a number of years to recover that and it will take investment and resources also."
How many people are now waiting?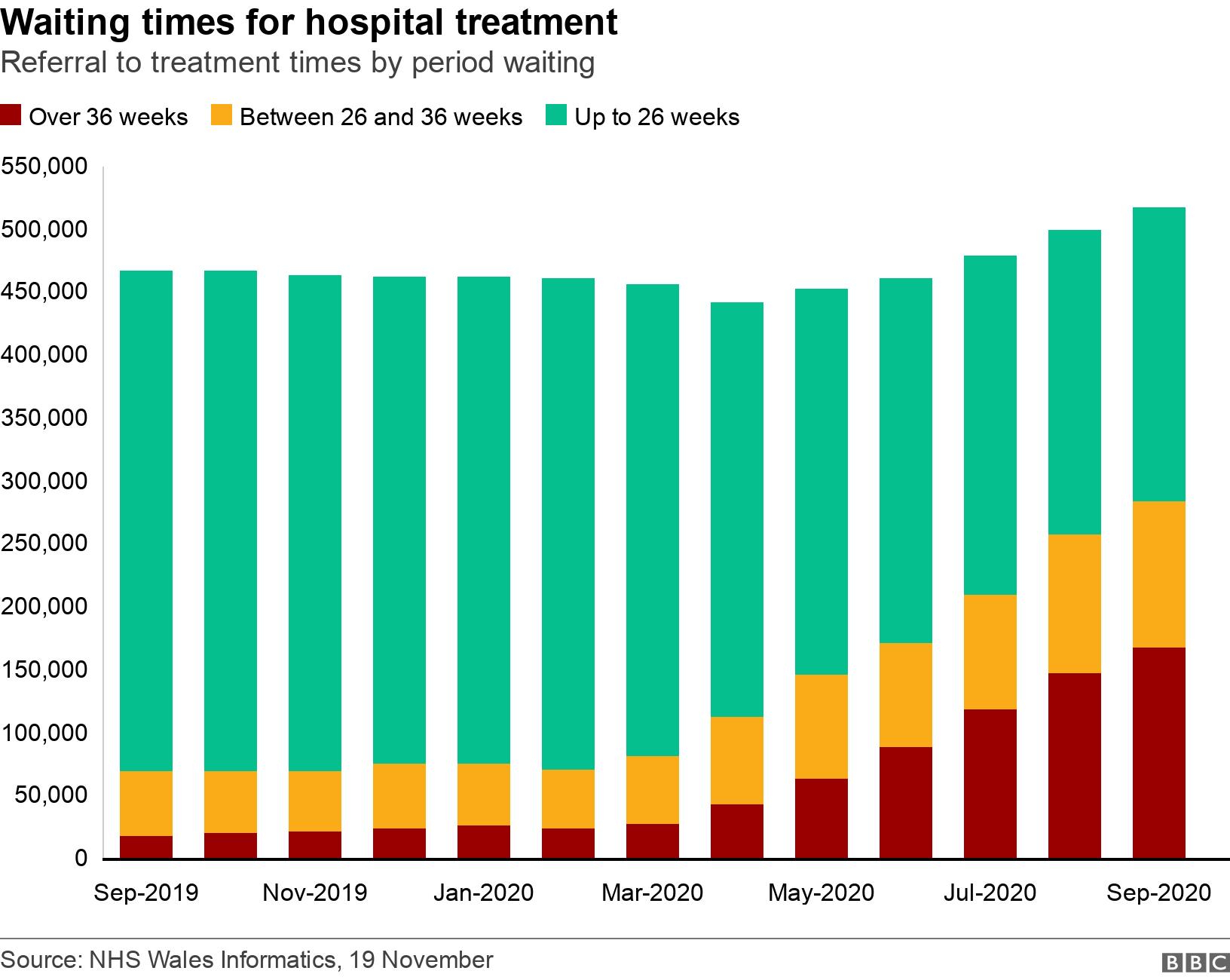 Before today, the last figures related to waiting times in January.
So we can now see that by September:
Numbers of patients waiting more than 36 weeks – nine months – to start treatment in hospital have grown from 27,314 in January to 168,944 (an increase of 518%)
Those waiting between six and nine months have risen from 49,548 to 116,807 (up 136%)
Compared to a year ago, the number on the list waiting more than nine months has risen 800%
The longest waits included 41,202 people waiting for orthopaedic or trauma treatment – a 372% increase since January – and 203 waiting for cardiothoracic surgery, more than four times as many.
Welsh Government targets state 95% of patients should be treated within six months and nobody should wait longer than six months.
That would amount to a tenfold increase in the number of patients compared to September 2019.
The Welsh Government said "difficult decisions" were made to postpone surgery and outcomes for patients would have been even worse had it not acted.
The NHS has gradually resumed non-urgent activity since the first wave and is trying to get procedures done, in so far as that is possible, but it has been substantially lower than what is usual.
'It's despairing me'
Former B&B owner Gaye Moran, 74, from Llandudno, Conwy county, has been waiting for vascular and hip surgery for more than 19 months.
She said she was placed on the "priority list" for both a hip and a vascular operation in March 2019, after problems with a previous hip operation caused her a lot of pain.
She was ready for surgery just as the pandemic struck.
"It's despairing me," she said.
"I can't just put it to one side and leave it because it's there all the time, I can't get away from it, and you just think 'oh please give me a date for an operation'."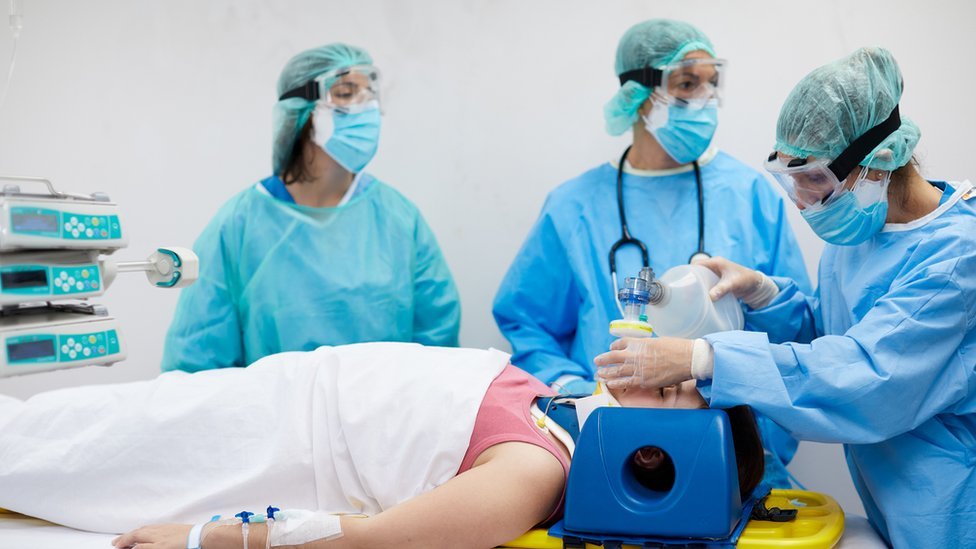 Getty
Emergency departments in Wales
New experimental measures of performance
53,903patients seen across 13 A&E units

15minutes average wait, time to triage

54minutes average wait, time to see clinician

43.9%no follow-up required

25.9%patient admitted to hospital
Source: NHS Wales, October 2020
New measures for A&E performance
Time to triage: This is the average time someone has to wait for an initial assessment, and performance by triage category (how urgent your condition appears to be) will be broken down into three categories – immediate, very urgent and urgent. Those very urgent or urgent had 15 and 16 minute median waits
Time to clinician: The average time a patient waits for a more thorough assessment by a clinician – 58.4% were said to be seen within a "valid time"
Outcome: Information on where people end up after being assessed and treated at the emergency department. It shows among other outcomes that 25.9% were admitted, 43.9% needed no follow-up, while 12.1% were referred to a GP
No targets have been set in relation to these measures and the Welsh Government said they were set with input from front-line emergency care staff.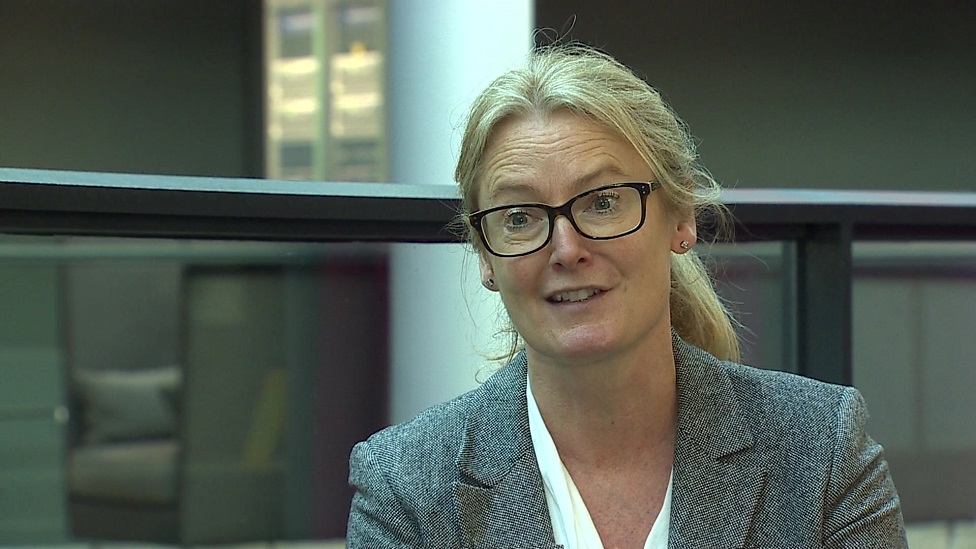 BBC
It will reassure us that we will see patients, who self-present, as close to their arrival as we can
Dr Jo Mower, clinical director for the National Programme for Unscheduled Care, has been a consultant in Cardiff for the past 16 years.
She said she was confident the new measures, alongside the current time-targets, would be better for those who came to A&E themselves, as well as those who arrive by ambulance.
"There may be times when we're overwhelmed, but we want to ensure our patients are triaged and assessed as close to their arrival time as possible, so the patient can get the right treatment, especially for those critical interventions like heart attacks, sepsis, strokes – and this will identify those patients but also those who could possibly wait a little longer for their treatment."
The current target is 95% of patients should spend no longer than four hours in A&E, but this has never been met since it was introduced in 2010.
The waiting times for A&E for October showed 76.5% of patients were seen, transferred or discharged within four hours, a slight improvement on both January and about the same October 2019.
There were 4,360 patients who waited more than 12 hours, even though the targets state nobody should have to wait that long.
However, critics of the current measures say they give little indication of the quality and urgency of care given to patients.
Meanwhile, in September, there was a 13.5% rise in patients entering the single cancer treatment pathway, compared to the month before, although this was still 1,145 (8.7%) compared to a year before.
For the third month in a row, the Welsh Ambulance Service failed to meet its target of reaching 65% of "red" life-threatening calls within eight minutes.
In October, 60.8% arrived within eight minutes. Health officials said one issue is that it can take up to six minutes for staff to get into full PPE kit before seeing each patient, while a standard clean now for ambulances took up to 20 minutes after each call.
Dr Goodall said once the pandemic has been brought under control, the NHS would need to transform the way it works in order to tackle the backlog.
But he said the rapid changes made to deal with Covid-19 – such as the growth in video consultations – proved what was possible, and he believed ministers would consider long-term funding challenges.
"I personally feel our longest waiting times may still take a number of years to resolve. But what I don't want to happen is we continue to respond in the same old fashioned way."
Health Minister Vaughan Gething said an extra £30m had been made available for the remainder of 2020/21.
"All our health boards now have plans in place to operate under these new circumstances and to see patients in order of clinical priority," he said.
"However, just as in other UK nations, it will take a long time to return to the position we were in before the pandemic. That will require significant resources over and above the current funding to respond to the unfinished pandemic."
What has the reaction been?
The British Medical Association (BMA) in Wales said the figures had reached extraordinary levels and were "stark".
"What is vital now, is clear messaging for these patients, many of whom have, and continue to suffer due to these delays," said David Bailey, chair of the BMA council in Wales.
"Clear communication which provides insight as to where they are in the system, may offer a small amount of peace of mind. To have no information at all will be for many, extremely distressing."
Responding to the A&E waiting time figures, Dr Suresh Pillai, of the Royal College of Emergency Medicine in Wales said it showed a worrying trend of increasing long waits.
"Long waits have always been dangerous, but at a time where Covid is still endemic and we are having to care for patients alongside managing the virus, we simply cannot have crowded emergency departments," he said.
Andrew RT Davies, Conservative health spokesman, said urged the health minister to "get a grip on this because troubling as these figures are, they are not just abstract numbers".
He added: "Our plan would mean ramping up capacity in Covid-free hospitals so we can get back on top of treatments, and patients aren't left waiting in unnecessary agony or anxiety."
Plaid Cymru's health spokesman Rhun ap Iorwerth said: "We still need to see more urgency in delivering significant 'green' Covid-free, or 'Covid-light' sites for diagnosis and treatment.
"Stopping in-hospital transmission of the virus is another area which needs significant attention."