By Christopher Sleight
BBC Scotland news
First Minister Nicola Sturgeon says recent measures to control Covid-19 have slowed the spread of the virus "very significantly". But has Scotland turned a corner in this second wave of the pandemic? Here are five key numbers to watch.
1. Local infection rates
Across the whole of Scotland, the average number of new cases every day is no longer rising.
The figure appears to have peaked towards the end of October and has now stabilised following a drop in levels at the beginning of November.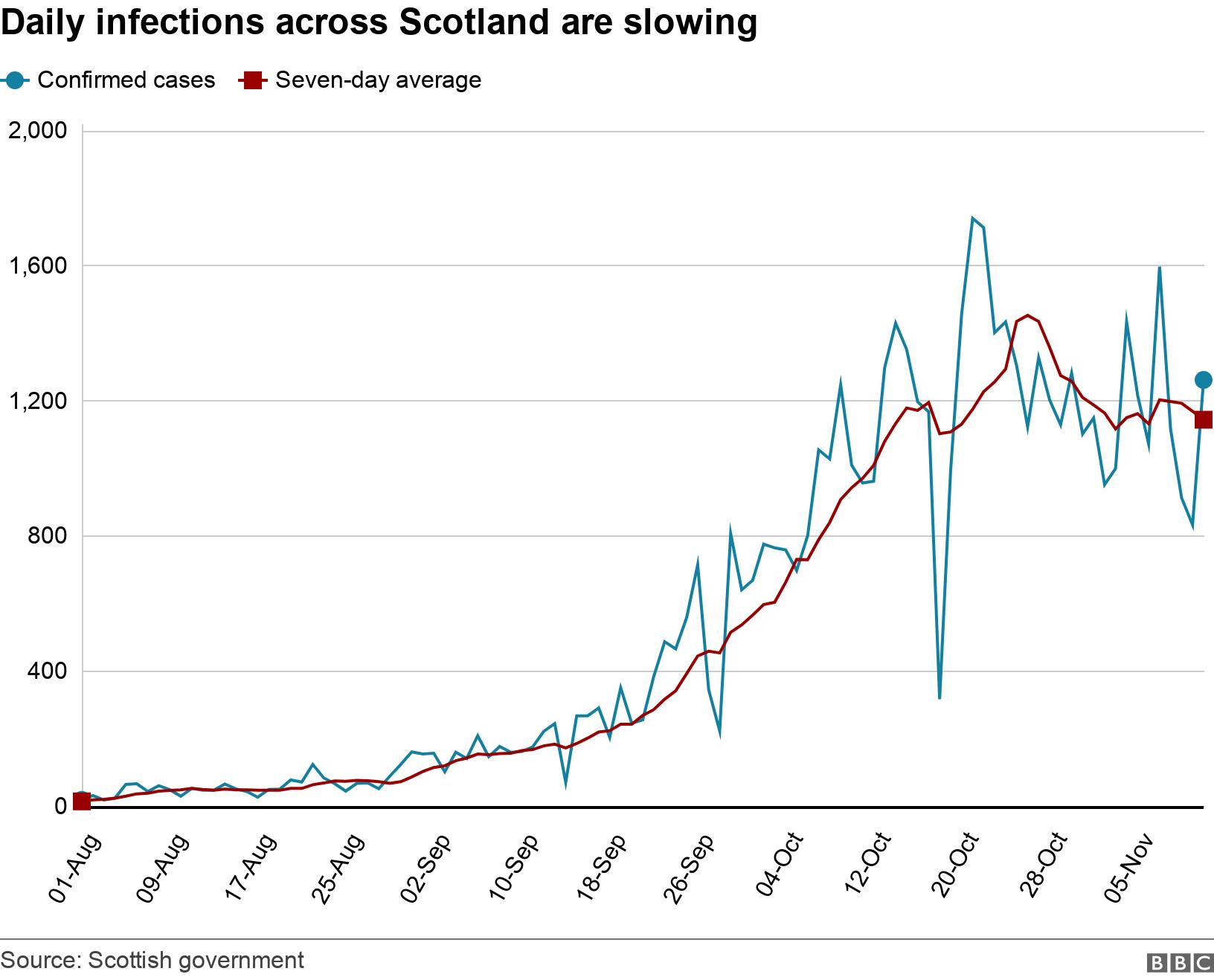 However, there are still significant areas of Scotland where cases are on the rise – and these are causing concern for the Scottish government as it attempts to slow the spread of the virus.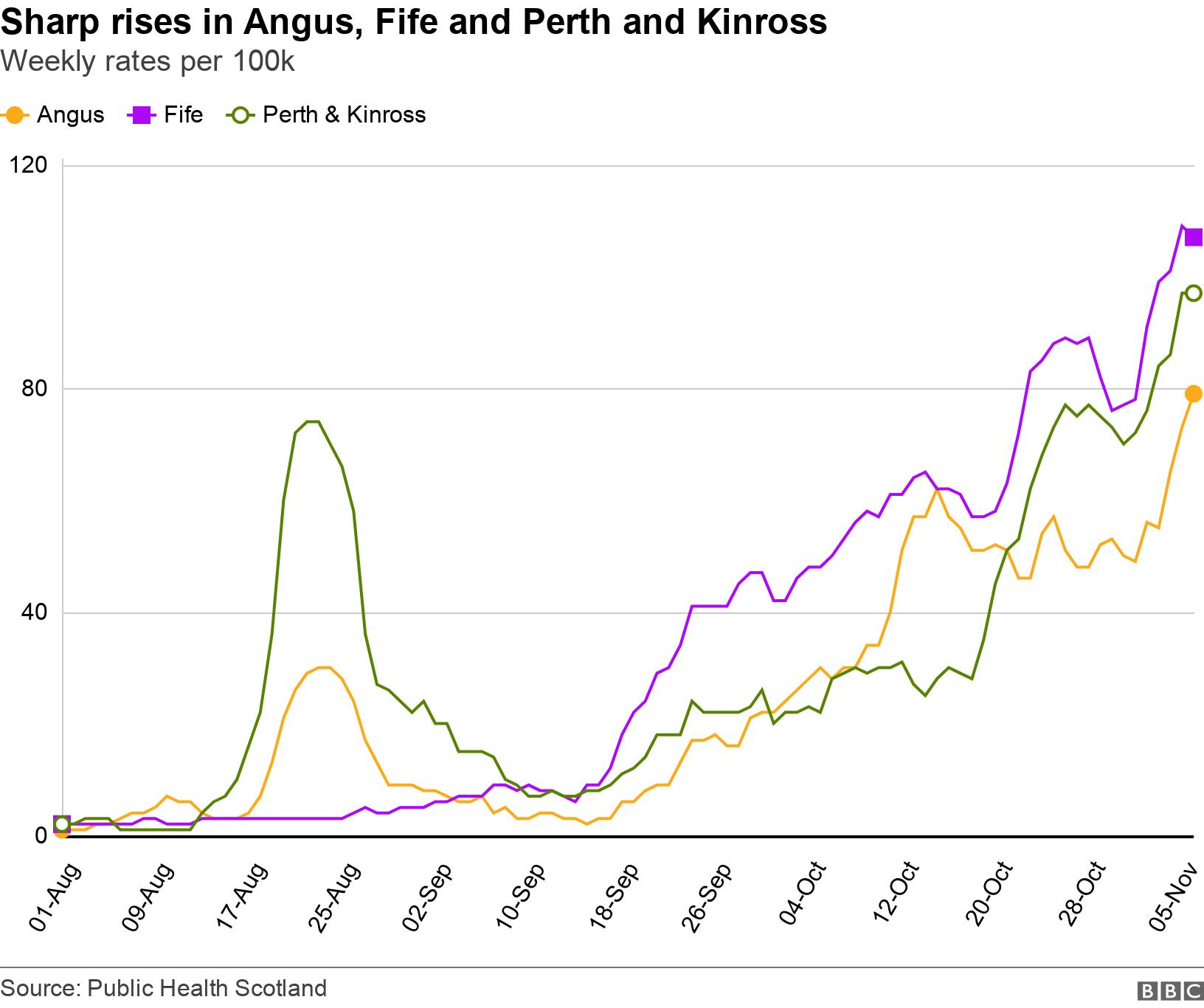 Other local authorities have also seen big rises in the weekly rate per 100,000 people since the beginning of November.
In Stirling, the rate of new cases doubled between 1 and 7 November, with an increase of about 85% in Inverclyde over the same period.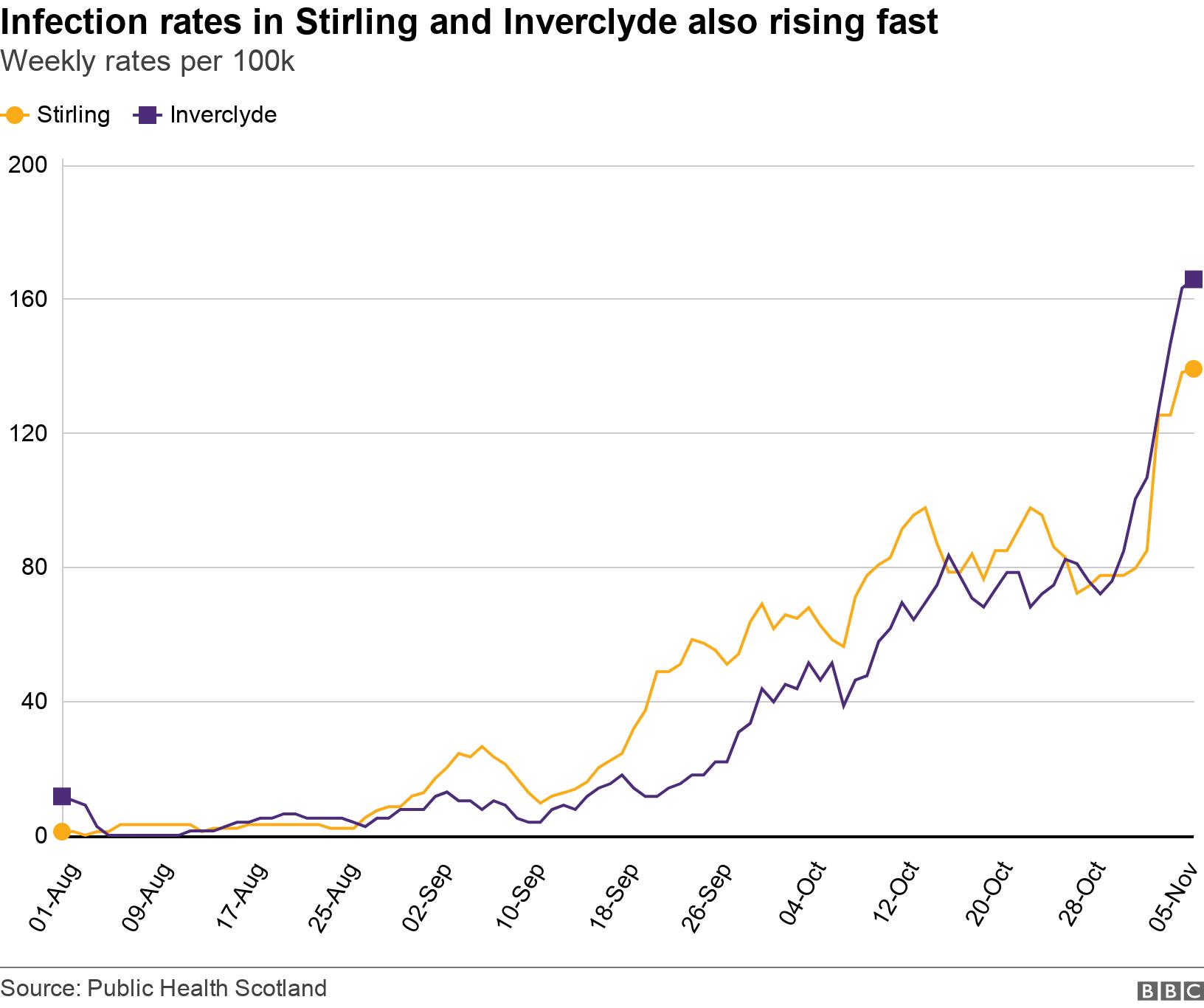 On 7 November, rates in the city had been above the Scottish government's Level 4 threshold of 300 cases per 100,000 people for five days.
2. The number being admitted to hospital across Scotland
The daily number of new confirmed cases of Covid-19 is an important statistic – but it is difficult to make a comparison between now and March using this figure as the number of people being tested has risen so significantly.
One number that is arguably a better gauge of where Scotland is in its second wave is hospital admissions.
The daily admissions for Covid-19 in Scotland hit a low in mid-July. Since then it has mainly been going up, but the latest figures show that, by this measure, a corner has been turned.
If the decline is sustained, the peak will also have been significantly lower than in the spring.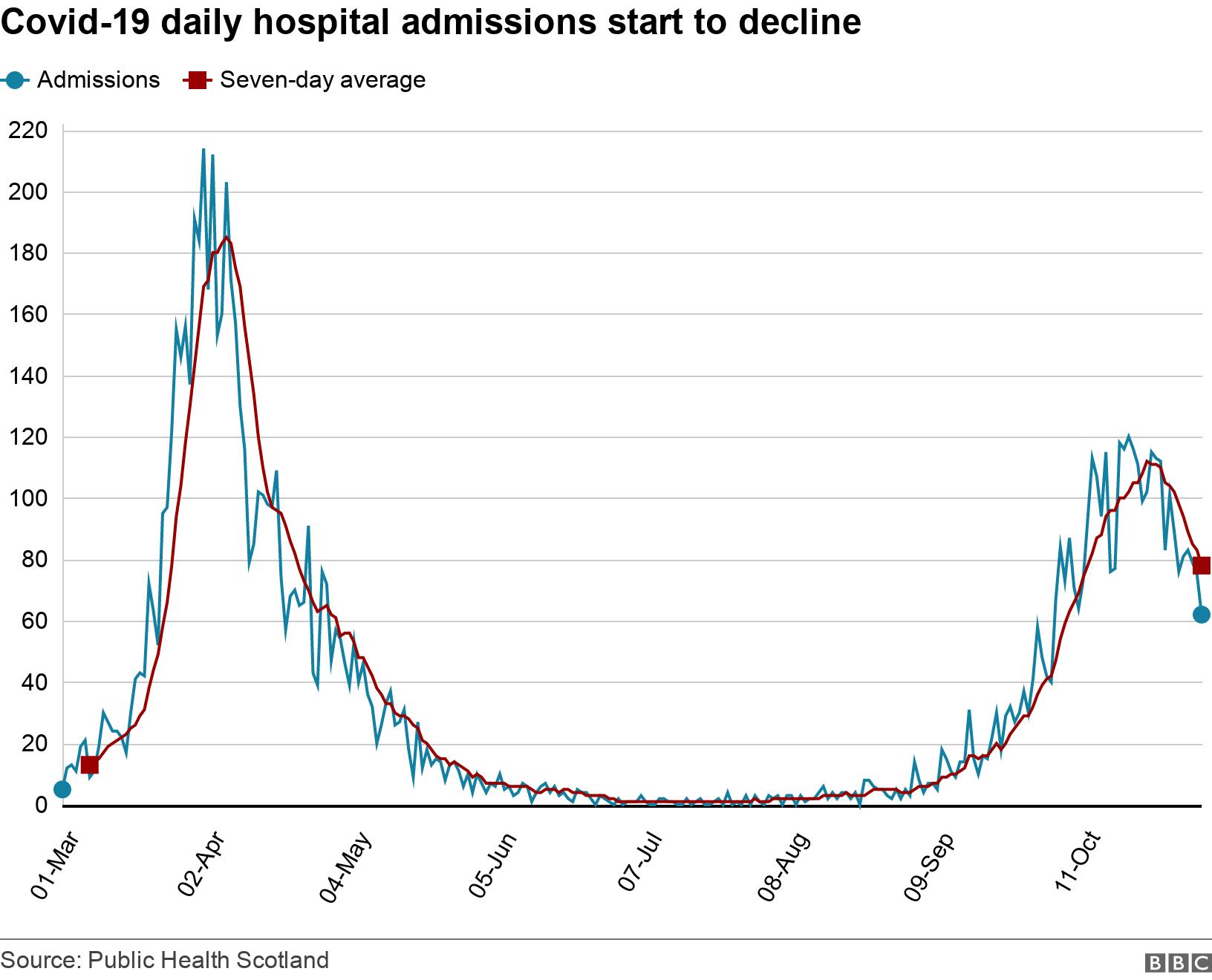 But it is also worth examining local hospital capacity for Covid-19 patients, which is another of the Scottish government's "indicators" for its five-level system.
3. How many patients end up in intensive care
The sickest Covid-19 patients are likely to end up in intensive care, where the mortality rate is high.
The number of daily ICU admissions has been rising steadily since the end of the summer – there were six Covid-19 patients in intensive care on 11 September and there were 111 on 8 November.
However, daily admissions now appear to have reached a plateau. They are not obviously in decline like hospital admissions, but the latest figures show they are not rising either.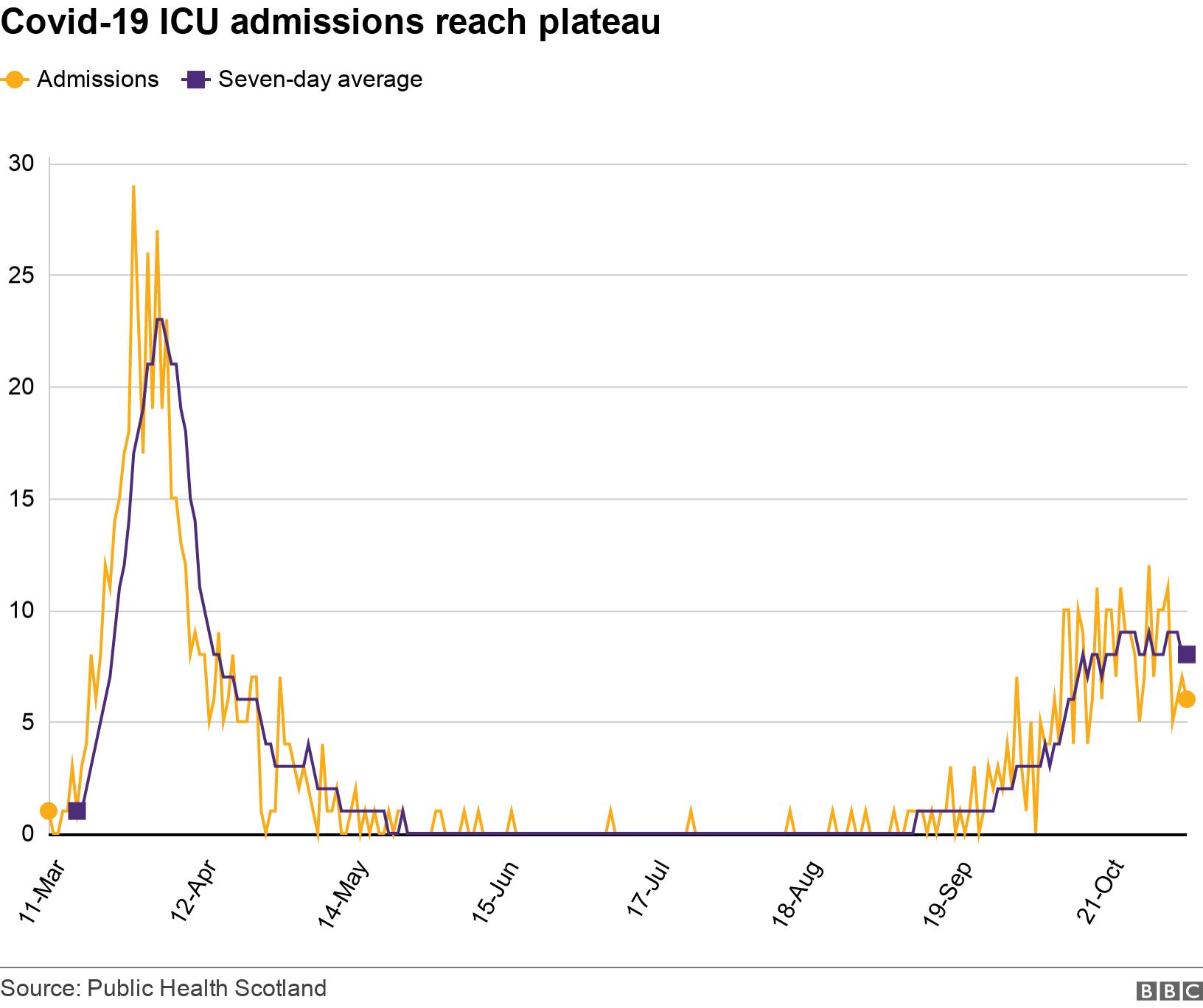 4. Will the death rate continue to rise?
The Scottish government announces daily figures of deaths within 28 days of a positive test for Covid-19.
Scotland went 40 days over the summer with no deaths recorded at all using this measure.
Currently, the average number of new Covid-19 deaths being registered each day is lower than the peak in April, but the figure is increasing and shows no sign of slowing yet.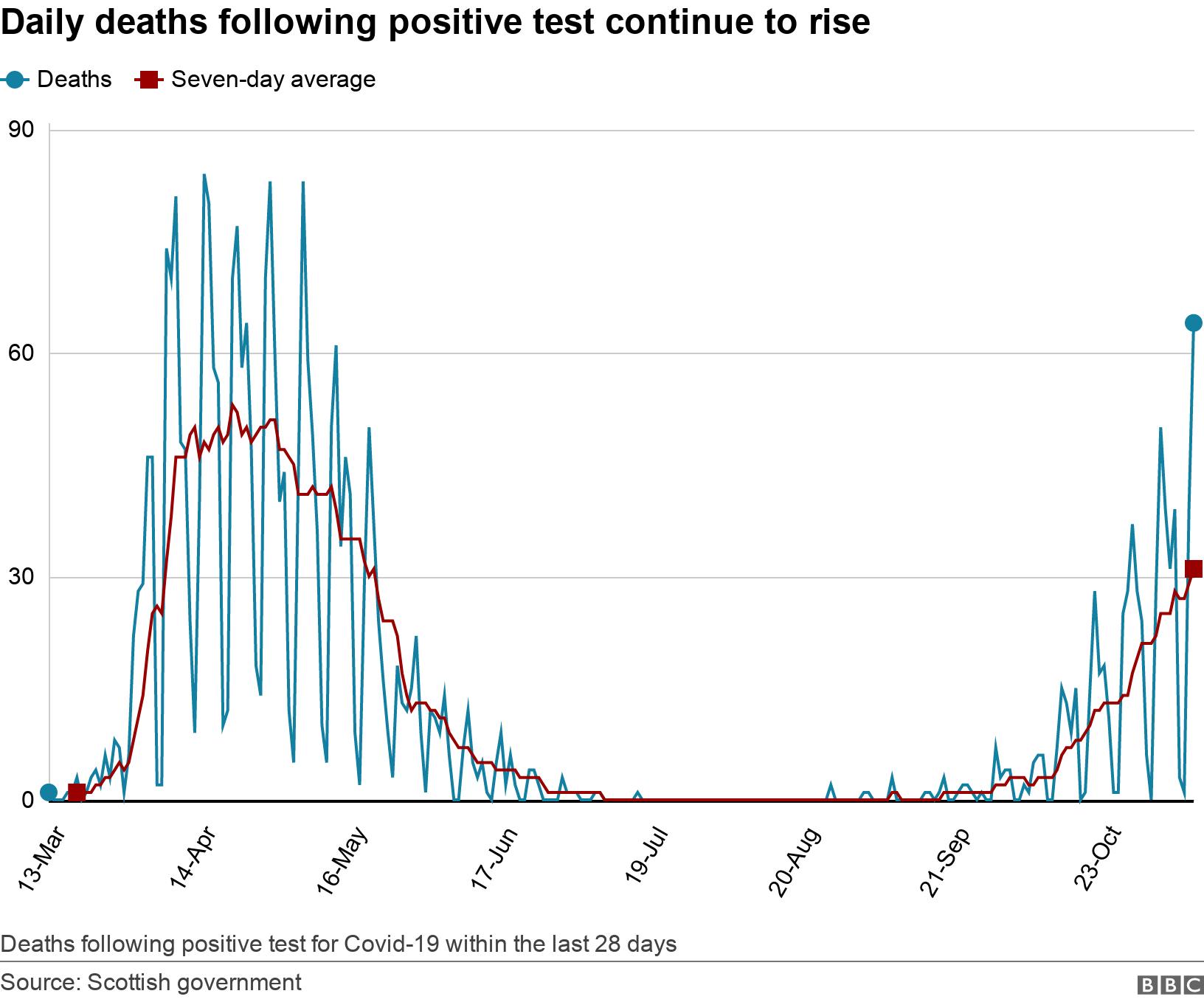 The National Records of Scotland count all death certificates that mention Covid-19, even if the person has not been tested for the virus.
A similar pattern is evident with this measure – the number of deaths per week is far lower than the peak in the spring, but is still rising.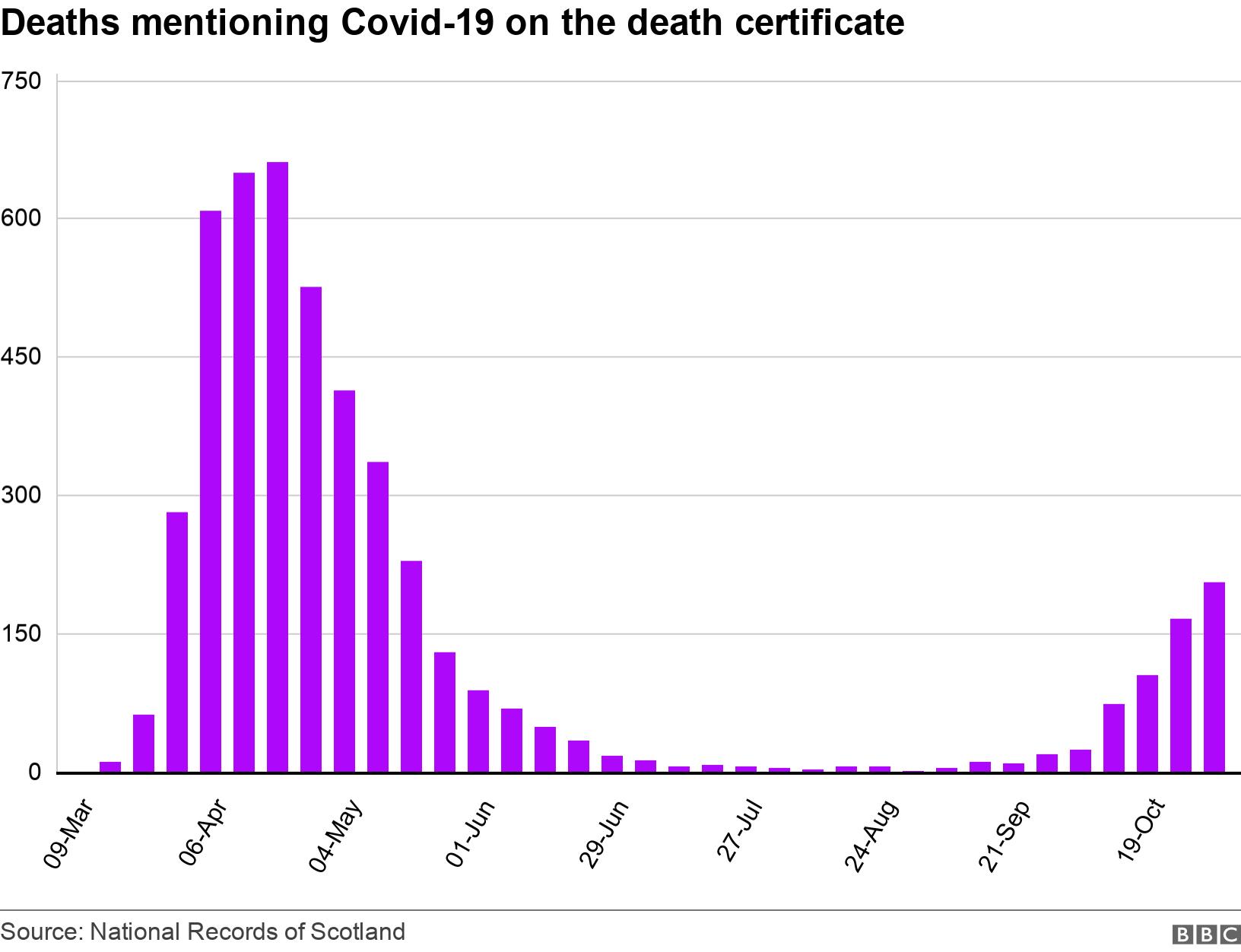 5. Who is getting infected?
It appears that hospital and ICU admissions may peak at a much lower rate than they did in the spring – so why is that when the number of new cases has undoubtedly surged in the past two months?
Younger age groups are much less likely to end up in hospital, or die, from Covid-19.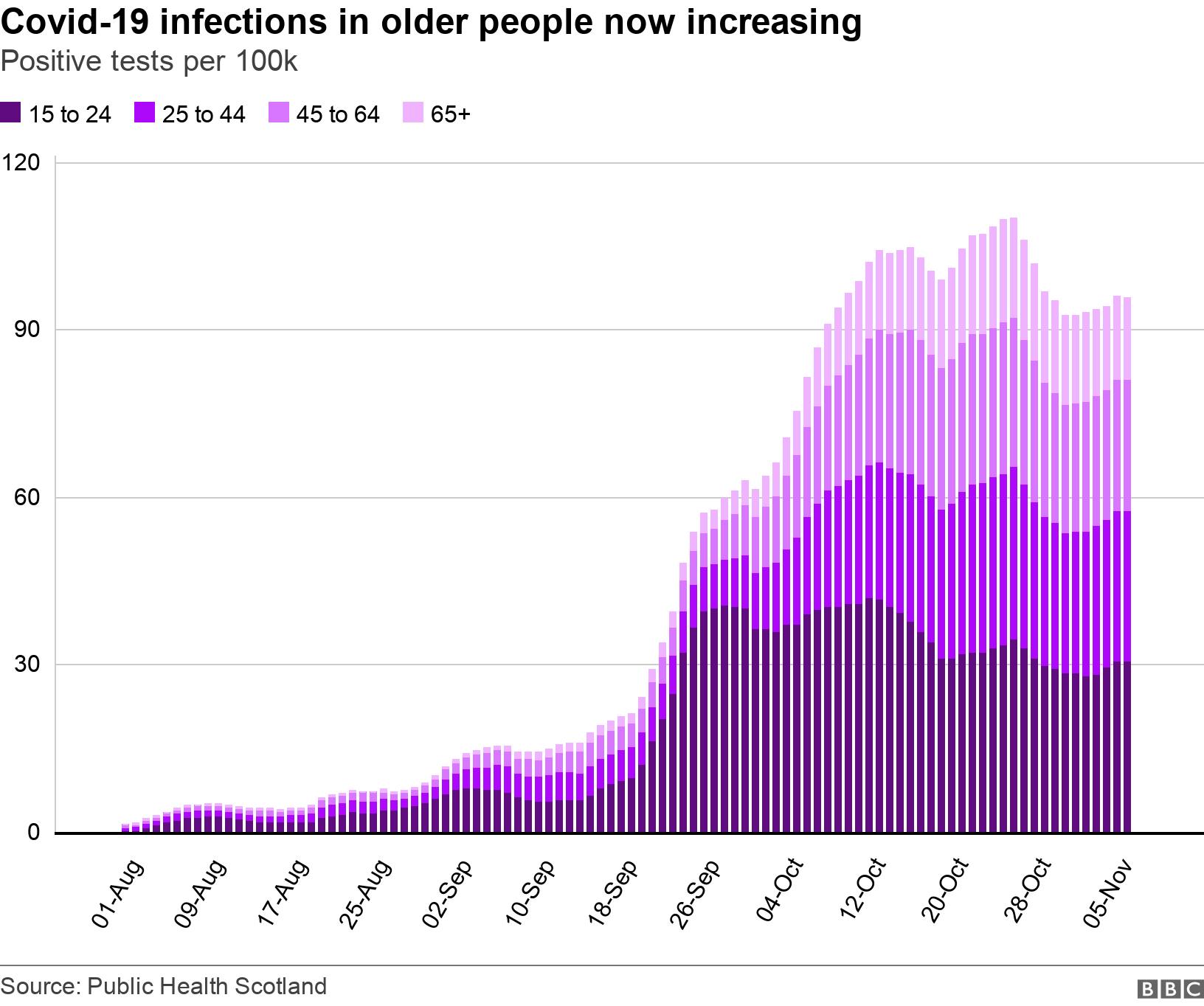 However, infection rates among older age groups have been rising in recent weeks.
So this is a number worth watching: if older age groups continue to become infected in large numbers, then hospital and ICU admissions could begin to go up again.